Seeking fun things to do in New Hampshire? Here is one that you can't miss!
No matter the time of year, you don't have to look far to find plenty of fun things to do in New Hampshire. From its 18 miles of seashore, to the Northeast's highest peak, this quaint yet colorful state offers something for everyone. It's one of the few states where a relaxing beach trip and an energizing mountain hike can be enjoyed in a few hours of each other. Plus, with options of either ocean or lake beaches, miles of kayakable waters, and above-timberline hiking on the Appalachian Trail, the possibilities are endless. Coupled with tours of historic houses and plenty of colonial history, there are countless ways to enjoy a rich story while being out in nature.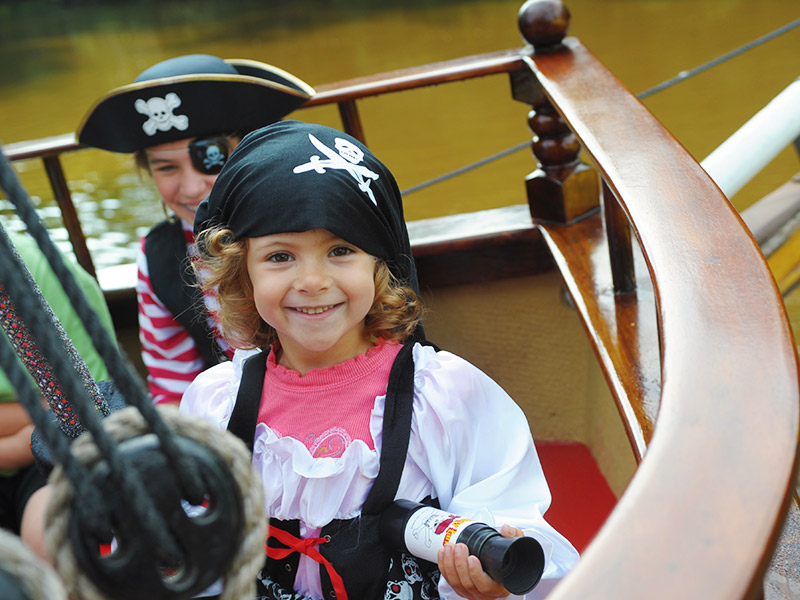 For visitors and locals alike wondering just what to do in New Hampshire in order to enjoy the very best story of all, though, don't worry! Hiking and sailing make for exciting options at summer, and offer plenty of outdoor rest and relaxation with or without company. In the fall, though, one of the very best activities to enjoy is the autumn foliage viewing – a unique experience for visitors from evergreen climates! There's also the extra seasonal specialty of skiing in the winter, as well as the added perk of tax-free shopping year round. Here in New Hampshire, you can live as peaceful or as thrilling a story as you want any day, from sand to stoney mountain sides. 
But, there's still an even more special place where stories themselves come to life the likes of which you won't find anywhere else. Over the river and through the woods, you'll find Story Land, one of the best amusement parks in New Hampshire, where fairy tales leap off the page and dance! Founded in 1954 by Bob and Ruth Morrell, Story Land is a playground for the pure-hearted who love princesses, pirates, and everything in between. From rides based on your favorite fairy tales, to special themed areas that will let you walk through all new worlds, there's something for everyone. Come, and let us tell you the tale of why Story Land is one of the best things to do in New Hampshire!
Visit a land of rides, attractions and games
One of the best ways to step into all your favorite stories at Story Land is through our wide variety of attractions, which are some of the most fun things to do in New Hampshire. Sure to keep every member of your family smiling, including even the pickiest prince or princess, here are our picks for the top rides!
Rides for the little story-goers
At Story Land, we offer the chance to step into all your favorite tales, from daring adventure to heart-fluttering fantasy. Does your youngest prefer classic tales of magic and Happily Ever After that leave them sighing with wonder? Then a trip on Cinderella's Pumpkin Coach will not only let them see magic, but step into their own carriage and be swept away by it! For the more bold, brave, and perhaps just the right kind of brash young ones, there's the Buccaneer Pirate Ship. Your young pirate can sail away with our very own band of swashbuckling sea-goers (but parents, don't worry, they're friendly as can be!).
Rides for the whole family
When it comes to rides the whole family can savor the story of, we have plenty of options to keep everyone engaged! For a gentle thrill everyone will be laughing along to, you can take a ride on Polar Coaster no matter the time of year. Your kids will love meeting Waldo and Wilbur walrus, and you'll all love the feeling of the cool breeze as you twist and turn. For a story unique to Story Land, and one that will keep you cool on the warmest summer day, try Dr. Geyser's Remarkable Raft Ride. No one knows too much about the Doctor – but legend has it you may just meet him if you take a ride down his river!
Rides for the young thrill-seeker
At Story Land, we aim to tell a calming story as you walk our magical forest-shaded paths; but, what's a good story without some thrill? For the older children or just more daring in your party, we have the Roar-O-Saurus – a unique wooden roller coaster that takes you back in time. Specially created for Story Land's natural setting, and the only coaster of its kind in Northern New England, even the quietest will be roaring along! For a story that will take you around the world instead, take a plunge down the Bamboo Chutes with our pack of playful pandas. It's a chance to shout and smile for the camera as you brave the towering waterfall before sliding down with a SPLASH!
Games to keep you on your toes
For a small extra fee, we have games that not only put you in the middle of a story, but let you experience the action! For a high-speed game of skill for the chance to bring home a brand-new fun loving friend, try Fido's Feeding Frenzy, next to Loopy Lab. For even more animal friend fun, just next door is the Lucky Rubber Ducky Game, with squeaky ducks and squeaky-clean fun! For people who prefer the tale of a noble race for glory, rush for victory at the Crab Crawl Game or Rory's Dino Dash. For a competition that will fire up anyone, compete to be the best at Humpty's Egg Drop. 
Enjoy the shows or go shopping!
If you prefer song and dance to go with your story, don't worry, we have plenty of magical friends who show you how we're one of the most fun places in New Hampshire! If you're in the mood for a fresh-picked Vegetable Extravaganza, come join us for our award-winning Farm Follies Show with Scarecrow and all his friends. For a cozy yet just-crazy-enough campfire sing-along experience with Mother Goose and some familiar faces, don't miss Camp Fairy Tale. If you need a break from singing your stories, or just need a little extra bit of magic in yours, It's Magic is a must-see. And, for one final magical, star-struck send-off, there's always plenty of lights, cameras and action at The Royal Red Carpet at the day's end.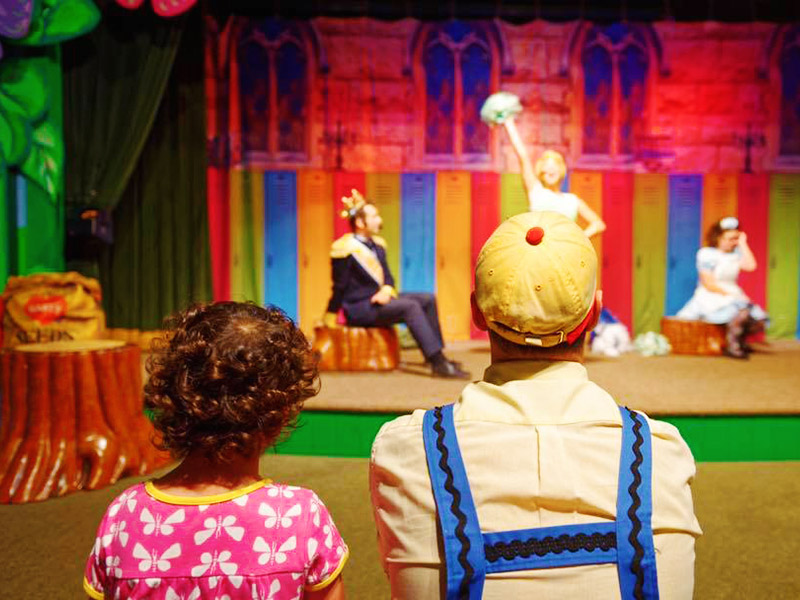 But, long before you leave Story Land, we have plenty of ways to take a page of our decades-long story home with you. Our biggest shop, Miss Muffet's Market, is right at the entrance to the park, waiting to greet or bid you farewell with its bright pink facade. Here you'll find everything from wearable memories in our apparel, to toys and plushies that can be held long after the last warm character hug. For more precious memories to wrap yourself in like royalty, Let's Pretend lets young princes and princesses become the stars of their own story. With costumes and accessories to bring imaginations to life, the tales of Story Land never have to end, even after the fun ends for the day. 
For a unique experience that will let you purchase a piece of history, Sluice offers sacks of sand, stones, and all manner of undiscovered treasures. Take them to our very own river to sift through them and find everything from shiny crystals to smooth fossils, imagining the stories behind them. For yet another chance to claim a page of history, the Whistle Stop Shop gives you the chance to bring home train-themed souvenirs and toys. Finally, you can always pop in to Yum Yum Junction for sweets, treats, and over 20 varieties of fudge!
Come to a fun place in New Hampshire where you'll also learn
If you still need some fun things to do in New Hampshire, and haven't had your fill of stories, Living Shores Aquarium is right next door! New England's newest hands-on experience, and New Hampshire's first aquarium, it features over 32,000 square feet of interactive tide pools, exhibits, and activities. Whether seeking the calming swishing of shimmering fish, or want to get up close with creatures of all kinds, the sea has tales to tell. 
You can watch otters at the Otter Experience, dancing and playing with each other in an underwater drama that's sure to leave you smiling. If more playful yourself, you can high-five stingrays while feeding them and learning all about their diets and natural habitats at the Ray Touch Pool. For the bravest of guests, you could even reach out and boldly brush your fingers against a shark or two at the Shark Touch Pool. For anyone who needs a break from meeting creatures of the smooth or more scaly kind, there are always feathered friends to be made at the Tropical Walkthrough Aviary. 
Regardless of what to do in New Hampshire, no trip is complete without at least one day spent at Story Land. With chances to meet all your favorite characters in their own backyard, from princesses to pirates, this is one tale you'll be happy you have to tell.