Activities For Kids in New Hampshire – and For the Whole Family!
When seeking great kids' activities to do in New Hampshire, the possibilities really are endless in one of the most diverse states for outdoor fun. Where else can you enjoy a fun family picnic on the beach but still go hiking in the mountains, all in just a few hours? From the tallest peak in the Northeast, to 18 miles of sandy shoreline, New Hampshire has an outdoor family plan for any occasion. Whether your kids love to lounge around and admire nature calmly, or are young high-energy outdoor enthusiasts, there's a story waiting to be enjoyed here. With relatively mild summers, some of the most beautiful fall foliage in the world, and the promise of snow in the winter, every season is special.
Whether you're a local or a visitor, you might be wondering just what some of the best fun activities to do in New Hampshire are. From hiking to skiing, swimming to fishing, and even sailing by sea or mountain lake, you can have fun with the whole family countless ways. However, when seeking kid friendly outdoor activities near you that combine the best of many of these, look no farther than Story Land! New Hampshire's Best Amusement Park for Kids is located in Glen, and has expanded from the humble sanctuary the Morrells bought over six decades ago. Bob and Ruth dedicated their lives to creating a home for fantasy, fairies, princesses, pirates, and every imaginable friend in-between!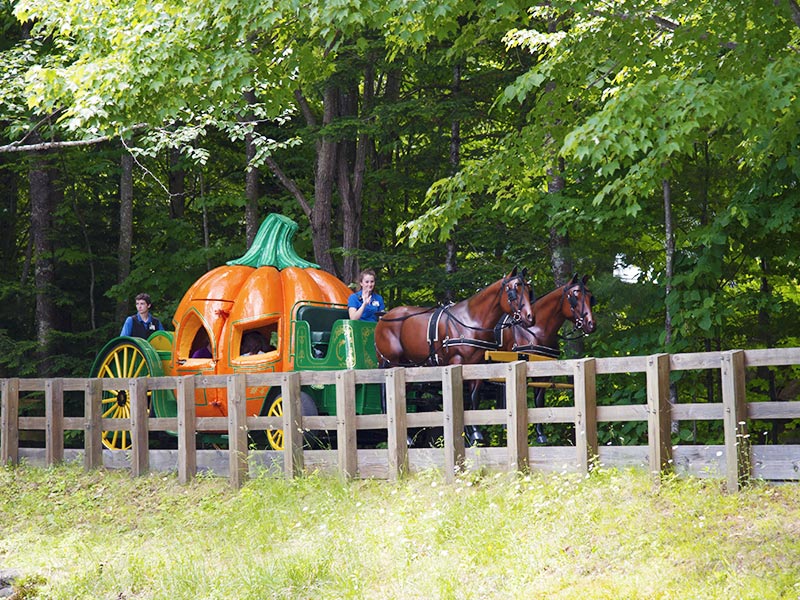 At Story Land, you'll be able to hike not just the paths of New Hampshire's enchanting forests, but walk between the worlds of magical stories. From the elegance of Cinderella's Castle to the warmth of Granny's Cottage, the characters of all your favorite tales will welcome you to their homes. Before long, you might even find yourself with the lovely princess herself – or perhaps a fairy or talking egg! With countless chances to run into all your most dearly beloved characters, and shows to watch them bring their stories to life, your dreams will come true!
Welcome to the Land of Fun
No matter their age, kids love ride experiences that put them in a story – and no amusement park does just that better than Story Land! From mild enough for infants, to wild enough for your oldest, here are some of the best kids' activities to do in New Hampshire!
No matter their age, everyone loves the story of a first flight, while imagining the breeze in one's hair as the world falls away below. Plus, everyone loves a beautiful balloon – and here at Story Land, you can enjoy both at the same time! The Great Balloon Chase is one of our most relaxing rides, and is safe enough that you can bring even your youngest along with you. With wonder in their eyes, your children will watch in awe as a special balloon descends just for them – red or blue, ready for you! They'll hold your hand as you rise into the sky together on a gentle wind, their hearts light and thoughts free to sail even higher. 
For children who are a little bit older, and a little bit bolder, the Antique Cars ride gives yet another first experience. Your toddlers and younger children will delight in the feeling of piloting their very own vehicle – and a beautiful classic one, at that! With the wind in their hair and road stretching before them, they'll suddenly feel transported both back and forward in time all at once. With their retro ride and a colorful main street beside them, they'll step back in time to another era. But, with that wheel between their hands and the road rolling beneath them, they'll get to play pretend at being an adult already – or at least a teen!
Cinderella's Pumpkin Coach and Castle
For all children who have ever dreamed of quite literally stepping inside a fairy tale, Cinderella's Pumpkin Coach is your chance to do just that! Waiting patiently by your side, even the most stoic prince or princess will gasp as they watch their very own pumpkin coach pull up. This ride isn't for Cinderella herself, though; here at Story Land, your young royal is the hero of their own story! With you, or even on their own with their very own capable (and very safe!) driver, your young royal will be off on the most magical journey. Whisked over the river and through the woods, they'll come to rest at the steps of Cinderella's Castle where the princess herself will be waiting.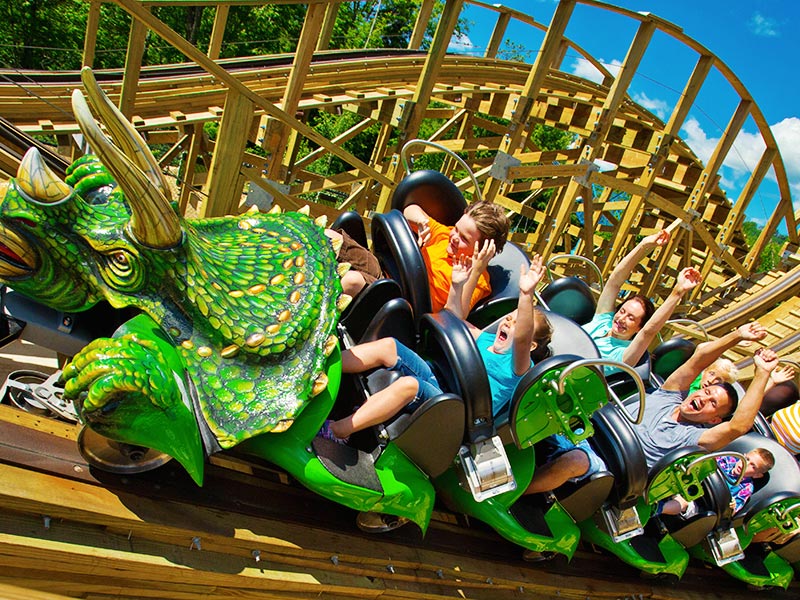 For children and parents alike looking for a cool thrill no matter the time of year, the Polar Coaster is the ride for you. Naturally twisting and turning along a hillside for quite a few decades now, it's a blast from the past that's as refreshing as the North Pole! With Waldo and Wilbur walrus as your guides, you'll go gliding along the icy blue track with hands in the air and wind in your hair. A roller coaster Arctic adventure that will transport you to a land of ice and snow, you'll get thrills, chills, and two new best friends!
If your children are a little bit older, or if they just can't get enough roller coaster action, the Roar-O-Saurus is a must see! The only wooden roller coaster of its kind in northern New England, and one of Story Land's most exciting attractions, this dino will have you roaring with laughter. Designed especially for our natural setting, and built over hills and around trees so seamlessly, you'll feel transported back to the time of the dinosaurs. Plus, with a cool green dino car to carry you, who can resist being a little braver for a day and riding something more daring?
Your Kids Will be Laughing All Day
Whether or not your children enjoy rides, here at Story Land we have plenty of other options for experiencing the fun activities to do in New Hampshire. To meet the mother of all your favorite stories, visit Mother Goose's Manor, located inside the Little Dreamers Play Area. Here you'll curl up in the most special house in Story Land for Story Time, and have the tales that call us home come to life! Afterwards, you can enjoy Meet and Greets with the lovely lady herself, with photos available throughout the day for whenever you come passing by! For even more storytelling fun with Mother Goose and friends, you can't miss the Camp Fairy Tale show, with everything from sing-alongs and magical mayhem.
For kids who prefer playing a story, and the chance to maybe take home a fun new friend, we have a wide variety of games. For a small additional fee that will add a BIG burst of extra fun to your day, we have a game for everyone. If you enjoy the thrill of a race, don't miss the Crab Crawl Game or Rory's Dino Dash. For kids who prefer a test of skill, Fido's Feeding Frenzy or the Los Bravos Mining Company Target Game are your chance to shine. If you're just feeling lucky, and feel like having a splashing good time on a warm day, the Lucky Rubber Ducky Game is for you. 
If your kids still want to get even more immersed in all their favorite stories, the Little Dreamers Nursery Rhyme Play Area is a must-see. Nursery rhymes come alive in this interactive play area, inviting more discovery and exploration behind every door from favorite familiar stories about shoes to blackbirds! For additional interactive fun, guide your young ones over to the Grandfather Tree Playground, or even the Three Bears' House to step inside even more stories. 
Great Fun For Kids and Adults
Once you've walked through the many tales of Story Land, we have one more special home of stories for you to visit at Living Shores Aquarium. For an additional entry fee, you'll experience one of the best fun activities to do in New Hampshire that's great for the whole family! New Hampshire's First Aquarium, as well as Newest Hands-On Experience, brings the stories of the sea to life right before your eyes and fingertips alike. With over 32,000 square feet of interactive tide pools, exhibits, and activities, you'll have plenty of chances to learn and play. 
For the boldest member of your family looking for a challenge, there are adventures to be had in many a touch pool here! From the tiny nibbles of the Freshwater Red Garra, to the powerful suction of stingrays during a feeding session, you'll meet all kinds of creatures. Not to mention, for the bravest of the brave, there's even a Shark Touch Pool where you can brush up against from Bamboo to Catshark! When you need a break from up close and personal aquatic adventures, there are exhibits from Cold Water Trout to the kid-favorite Clownfish. 
Whatever kind of stories you're seeking, they all live here at Story Land and Living Shores Aquarium. Whether you want to play princess or pirate for a day, you're sure to make many a new friend where fantasy, magic and tales of all types meet. No matter your age, these are a pair of kid friendly activities near you no one will want to miss!